We had a fun couple of weeks with Russia. The first week we rowed
Another Celebrated Dancing Bear
and the second week was
The Mitten.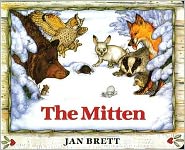 Another Celebrated Dancing Bear :
Social Studies: Geography -location of Russia and Ural Mts.
Occupations- I had some occupation flash cards we discussed.
Relationships- We discussed the friendship between Max and Boris
and what it means to be a good friend.
Science: We talked about the boiling point and freezing point of water and how that
temperature also relates to weather. The morning temps are now in that
BELOW 32 degree mark so we are remembering all too well about how
freezing feels.
Art: Lucas colored a picture and used the turrets to place on top of the buildings to
go with the Russian architecture. Sophie colored the turrets but did not want to
make a picture.
L.A.: Drama- Sophie really enjoyed this one. We acted out action words. Luke was a no-go on this.
Math: We went over the hours on the clock and the days of the week. They already do this every
morning at calendar time but what is one more time right!
The Mitten
Social Studies: Geography- reviewed Russia
Science: We made a mini book of the animals in the story and Luke told me one thing he learned about
each animal. We also make a poster showing where the animals go in the winter. This was a
find on pinterest. It was fun and the kids learned a lot.
L.A: We did a story map. Discussed what a folktale is. They make a mitten pocket and cut out the animals
from the story to do story sequencing.
Math: We found 5 pairs of mittens/gloves and measured and graphed with unifix cubes.
This was a really fun 2 weeks. I wish all days were as fun as these but as we know not all topics and books go over as well as others. Here are some pics of their work...