After a little mid year evaluation of what is working and what is not, I still find myself struggling a bit in this area. I started the year out using Phonics Pathways and that just became a huge battle. Lucas really struggled with blending and I felt the short lessons and constant review of PP would help him. Boy was I wrong! Finally I thought that maybe he just was not ready for it and put it away. When I tried to reincorporate it into his day it was a NO GO. So I just decided to forget it and continue on ETC which he really likes. I just felt the pace was slow and it would take him forever to get to actual reading. Well it turns out it was just right for him. He finished all of the Get Ready books A, B, C and is now mid way through book 1 and blending beautifully!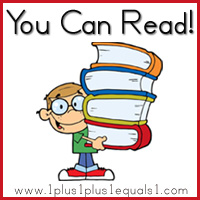 For his sight words I have been using the
You Can Read
sight word units from
1+1+1=1
. We started out slow and now he is doing much better and finishing in a week. I am a ink hoarder so what I did was make my own laminated sheets which I can use with each unit and just fill in the new words. I made a sheet for: dot-to dot shapes, word search, prewriting trace the lines, bingo, and I also added in a
Read, Build, Write
sheet and an
ABC order sheet
that I made. I do print out the color by sight word and the sentence sheets for each week though. Luke loves to color and reading the words in the context of a sentence I feel helps to solidify them.
I have been doing a lot of research and review reading to see what else I can use instead of PP and though I had decided on The Ordinary Parents Guide to Reading but not sure if he will like that either. Still pondering (hmmmm). He is reading his BOB books and I got him some beginning readers from the library to see how he likes those. He is doing really well with slowing down to sound out his words instead of guessing (although not always). Hopefully starting next week we will have the opportunity to review Reading Eggs which I have ready many good things about. Pretty excited to give it a try.
If anyone has any opinions on OPGTR please let me know. I am so on the fence. It is only $20.00 so if it another no go I will not be out too much. AAR sounds great but a bit pricey for all of the needed materials. Boy would I have loved to been in on that review :).
Julie