To kick start my word for 2013 ~ Proactive ~ I am going to take the challenge of memorizing 100 verses in 2013. My husband is joining me, so this should be fun. The verses are taken from the book
100 Bible Verses Everyone Should Know By Heart
by Robert J. Morgan. I am going to use the ebook version for $2.99 at Amazon, however it is not necessary to buy the book.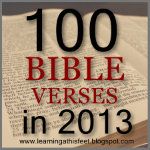 I also joined the facebook group set up by Shanna who blogs at
learningathisfeet.blogspot.com/
along with over 200 others. She has all of details on her blog, so check them out if you are interested in joining in.
We will be memorizing two verses per week for 50 weeks.
Ready! Set!
GO
!!
Genesis 1:1 In the beginning God created the heavens and the earth. (NIV)
John 1:1 In the beginning was the Word, and the Word was with God, and the Word was God. (NIV)
We decided to put our weekly verses up on the chalkboard in the kitchen. Some of them I know, but I like seeing them up anyway. :)
I am hopeful that I will be able to blog weekly about how it is going. I am shooting for Monday, but with reviews often falling on Mondays, it may be another day.