I cannot begin to tell you how excited I was when I found I was able to review products from
Institute for Excellence in Writing
(
IEW
). Last year we reviewed Primary Arts of Language (PAL) Reading and Writing and my love for IEW began.
I had planned on purchasing
Teaching Writing: Structure and Style
(TWSS) to prepare for the fall, but this was one of the products I was privileged to review along with the
Student Writing Intensive (SWI) level A.
This could easily be one of the longest reviews in my history, but I will spare you all of the gushing I could pour out and stick to how it works and why it is working for us. Once you take the plunge into the world of IEW, I think you will understand why it makes my heart pitter patter. Let's get started!
I am sure, if you have been homeschooling for any length of time, you have heard of IEW. You may have breezed over their website, thought it looked interesting, seen the price of the material and moved on. Or you may have dug into the website, checked out the samples, watched as many of Andrew Pudewa's videos you could find and decided you really need the TWSS seminar and have it on your wish list. I have been part of both of those scenarios and now realize how invaluable IEW has become to me and my kids.
About IEW
Andrew Pudewa is the founder, principal speaker and director of Institute for Excellence in Writing. He is the one who will be presenting the TWSS seminar as well teaching the kids in the SWI-A. You can read more about him and the history of IEW on the
About Page.
About the Products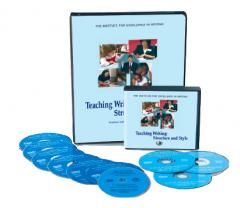 Teaching Writing: Structure and Style is a DVD based seminar intended to teach educators how to teach writing. This is for the parents/teachers not for the children. It is made up of 10 DVD's (13 hours) broken down into manageable chunks.
6 DVD's of instruction on teaching Units 1-9
1 DVD on Tips and Tricks
3 DVD's of sample student workshops at the three different levels to help you get started
Also included is the 3-ring binder with tabs and the syllabus including charts, word lists, sample lesson plans, practicums and more.
Purchase price is $169.99
~~~~~~~~~~~~~~~~~~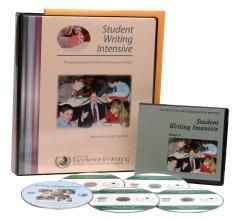 Student Writing Intensive - Level A
SWI-A is the student instruction course based on the TWSS syllabus. It is intended for students at the 3-5 grade level. It includes:
Structure and Style Overview for the parents
4 DVD's of instruction for the child(ren), which cover Outlines, Summaries, Dress-Ups, Story Summaries, Reference Summaries, Paragraph Structure and Creative Writing.
A 3-ring binder with dividers
The student packet of handouts including complete teacher's notes, source texts, assignments and checklists
This can be used over a period of 15-30 weeks depending on the child's ability. It can easily be spread out to cover the course of your school year. As you can see from the instruction included above on the DVD's, not all of the units are covered at this level.
Purchase price is $109.00
If both products purchased together the price is $249.00
Our Experience with the TWSS/SWI-A Combo:
After opening up the box, I eagerly got by binder situated for the TWSS seminar. I could not wait to get started. I spent my nights over the next week learning a great deal from Andrew's teaching. He definitely teaches in a way that is easily understood. He makes a seemingly impossible task very manageable in this incremental, skills based, solid writing program. He starts at the absolute basics and builds upon them as he goes. It was very refreshing to my type A personality to say the least. Teaching writing can be fun and successful following his instruction.
I took many notes and did the practicums as they were presented. I will say that doing the practicums was very beneficial for me. Andrew makes things look so simple, but when I was doing them independently it really made me focus on the process and follow my checklist. It sure gave me a better understanding of being a student and how things are not as simple as the teacher makes them look.
After I finished the TWSS DVD's it was time to get started on the SWI-A with Luke. He is a bit below the intended age range at just beginning 2nd grade material. The IEW process is not new to him since he has completed the PAL writing program, but he did need to go at a slower pace on the SWI than an older child might.
After working through the first lesson with the DVD and having to pause it many times, mainly due to the vocabulary of the source texts, I though we would do it differently the next lesson. We then watched all of the lesson without actually doing everything along with them on the video. Then we would go back through whatever we were working on, discuss things as we went and do it at Luke's pace so he did not feel so overwhelmed to keep up. He did amazingly well for such a little guy and has come to appreciate the structure of the program.
He rocks the KWO and summaries. He likes knowing what is expected of him (the checklist) and that he does not have to pull stories out of his head and just start writing. Even during the creative writing unit he brainstorms a topic, develops it out in his KWO and off he goes. Now do you wonder why I love IEW?!
I think he would have been really overwhelmed had he not already had a feel for the program, but that is only due to his age (6). Beginning it with an older child, as it is intended, would go at a perfect pace. The fact that Luke is able to really understand the skills being taught and continues to grow as a writer speaks volumes about the method used in this program.
After watching the seminar and putting it into practice with Luke, I understand how important the basic fundamentals are in teaching every skills based subject, not only writing. You practice, practice, practice until you can do it easily and then you build upon that or add something new. Practice and repeat. Model, Model, Model! I also learned that you cannot model too much for your kids. They will get it eventually and it will become easy.
Luke thought that it was pretty cool to have the classroom atmosphere while watching the lessons. It was really the first time that he has had other kids giving input and brainstorming along with him. In the past it has only been me and him doing his writing together. His sister is a year younger so writing is one subject that she is at a different level than him. They will level out after this year, so we will all be able to work together.
Many of the members of the Crew reviewed the TWSS along with the SWI levels A, B, or C, as well as Teaching the Classics. To read more of the reviews, click on the banner below.